About Us
Please, take a moment to see this beautiful video about our work. Click to See it.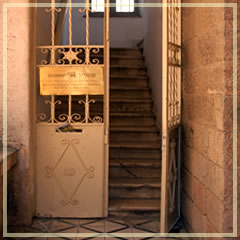 Entrance to SHAMIR Center in Jerusalem
Over a million Israelis speak Russian.

But what are they saying?
"I can't find a decent job."

"What's the point of staying in Israel?"

"I know I'm Jewish but what
difference does it make?"
SHAMIR is changing all that.
Background
In 1971, as millions of Jews remained locked behind the Iron Curtain, The Lubavitcher Rebbe gathered 20 of the first "refuseniks" to escape the Soviet Union at a historic private audience and gave them a mission: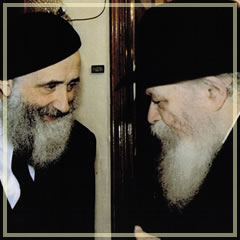 Prof. Branover with the
Lubavitcher Rebbe, right

They were to create the first association of Russian Jews helping each other materially and spiritually, in Israel and the Soviet Union.

For the name of the Association, The Rebbe chose "SHAMIR", a Hebrew acronym for Shomrei Mitzvot Yotsei Russia, literally, "keepers of the commandments who left Russia."

For the Chairman of SHAMIR, The Rebbe chose celebrated physicist and refusenik, Professor Herman Branover who has led the worldwide organization ever since.

Based in Jerusalem, SHAMIR's "veteran" newcomers help more recent arrivals to access housing and jobs, explore their Jewish heritage, and integrate into Israeli society. Free of any political alignment, SHAMIR has become a model to be emulated in the eyes of the Israeli Government and Jewish organizations.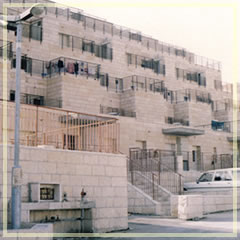 During the Cold War, SHAMIR trained a team of translators and editors, who created a library of important Jewish books in Russian, which were then smuggled behind the Iron Curtain by SHAMIR activists in order to preserve Jewish identity and boost morale in the face of terrible oppression.
Within Russia, SHAMIR convened secret prayer and study groups. In spite of communism, the SHAMIR Jewish Community Center in Moscow has operated openly since 1984.
In Israel, SHAMIR geared up in advance for the collapse of communism and prepared housing, employment, and educational projects to help absorb the vast number of immigrants who arrived so suddenly.
Many unprecedented projects created by SHAMIR in Jerusalem are now widely emulated throughout the country, and even elsewhere in the world.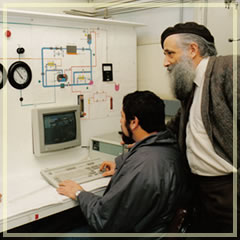 These projects include the Kiryat SHAMIR housing development in Ramot, the SHAMIR Advanced Technology and Engineering Center which has employed hundreds of Russian immigrants in high-tech jobs, the SHAMIR Kolel (Rabbinical School), and the SHAMIR Publishing House.
Upon the demise of the Soviet of Russia, SHAMIR founded Russia's first post-communist Yeshiva Day School. Russian printing presses were engaged printing classic Judaica titles in Russian such as bilingual prayerbooks, Bibles, philosophical and literary works. Seeds were planted for the future by SHAMIR's sponsorship of emissaries to the CIS, including Rabbi Berel Lazar, who has achieved astounding success in rebuilding Jewish life as Chief Rabbi of Russia and Head Shaliach of the Chabad movement there.
SHAMIR Today
Today in Israel, SHAMIR activists continue to boost Jewish identity with lectures, classes and concerts on Jewish themes throughout Israel. Articles of Jewish interest are published weekly in the Israeli Russian-language press, and radio and TV shows present SHAMIR's Jewish content programming on the immigrant channels. SHAMIR publishes its own monthly newsletter, Shofar, that informs and inspires readers in nearly 100 communities in Israel and abroad.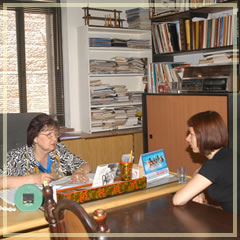 SHAMIR vocational counselor with client
SHAMIR's free employment agency in Israel has served tens of thousands of new immigrants helping them find suitable work, assisting them with job retraining and even employing them in SHAMIR-initiated enterprises.
Centered in Jerusalem, the SHAMIR Publishing House has produced over 400 titles in over 12,000,000 copies. This work has been fundamental in restoring Jewish identity to millions of Jews robbed of any affiliation to their people, faith or heritage by over 70 years of totalitarian oppression.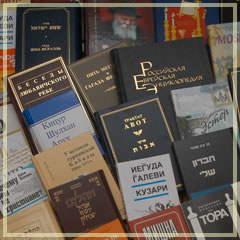 SHAMIR publications have been widely cited as a primary motivating factor for the immigration to Israel of many tens of thousands of Russian Jews.
The Russian Academy of Natural Sciences has engaged SHAMIR to create a nine volume Encyclopedia of Russian Jewry. This work in progress covers 1000 years of Jewish prescence on Russian territory in particular and the Russian-Jewish contribution to world civilization in general.
Five volumes of this encyclopedia have already been published in Moscow in Russian. The first volume was translated into English and published in the USA. A team of about 250 mainly free-lance experts -- historians. philosophers, writers and scientists -- are working in Moscow and Jerusalem on the remaining volumes.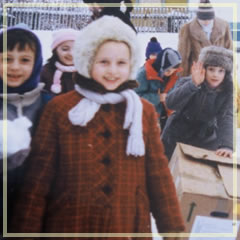 In Latvia, SHAMIR's community center in Riga is directed by Rabbi Menachem Barkahan, the son of Rabbi Notte Barkahan of blessed memory, who had been Chief Rabbi of that country. The Center sponsors clubs for youth, women, and academicians. There is a library, a medical clinic, and a panorama of historical and cultural programs building bridges of tolerance and understanding within Latvian society at large. SHAMIR has also founded the Jewish Studies Department at the Latvian State University in Riga, and sponsors a biennial international conference entitled "Jews in a Changing World" with proceedings published in Russian and English.
In Russia, SHAMIR activist, Rabbi Berel Tsisin, has directed our Moscow community center since 1984, establishing myriad activities including kindergarten, Sunday school, adult education, a soup kitchen, care packages, a kosher meals-on-wheels, a medical clinic, and traditional Jewish burial instead of state-sponsored cremation. And for the first time in eastern Moscow, a Jewish day school is in the works as well.
Under the direction of Editor-in-Chief Professor Herman Branover, SHAMIR has expanded to Hebrew and English language books as well. Most of these titles are focused on the interplay between Faith and Science, and include SHAMIR's English-language peer-reviewed journal entitled B'or HaTorah: Science, Arts & Problems of Modern Life in the Light of the Torah. The Journal publishes the proceedings of the biennial B'Or HaTorah Conferences at Florida International University featuring presentations by dozens of high-ranking academic personalities in a public forum.
In recent years, SHAMIR has partnered with the F.R.E.E. organization of New York.
SHAMIR's diverse and dynamic activities have provided innovative ways to develop Jewish community and consciousness in preparation for the coming of Moshiach and the much-awaited time when "The world will be filled with the knowledge of G-d as waters cover the sea."
We invite you to take part in our valuable work.